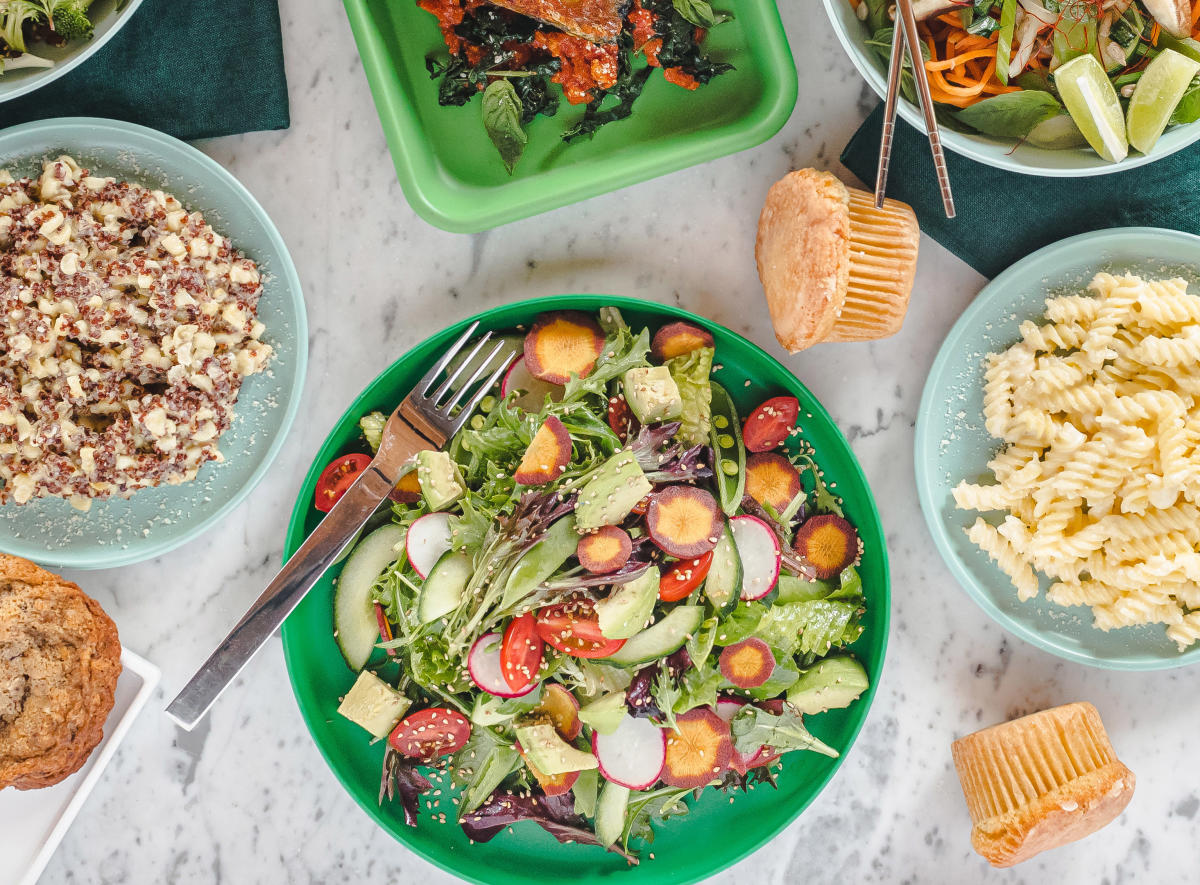 100% Gluten-Free
Intentional Foods (IF Cafe & Market)
Intentional Foods was started by a local couple after their daughter had an anaphylaxis scare. They then set out to provide a safe place for people with food allergies to dine with confidence by opening a restaurant free of the top 8 allergens: nuts, dairy, eggs, wheat, gluten, seafood, soy and sesame. 
The menu showcases bowls, salads and sandwiches, as well as a variety of sides and desserts. But don't miss the retail market, where you can find prepackaged and made-to-order allergy-friendly products and meals, in addition to local coffee, produce, baked goods and more.
Recently voted No. 9 on Yelp's Top 100 Places to eat in 2021, they're currently working on an expansion that includes more indoor seating and a gluten-free bar.
1837 W. Guadalupe Road, Unit 103, Mesa

480-264-7002
Jewel's Bakery & Cafe
When you think of gluten-free fried chicken in Phoenix, no one else comes close to Jewel's Bakery & Cafe. As Arizona's first and only full-service, 100% gluten-free restaurant — largely centered around crispy fried chicken, waffles and vegan options — this spot serves a decadent brunch all day long.
And they've expanded! Jewel's recently launched a pop-up taco shop called Tru Tacos, home to traditional Guerrero-style street tacos, fresh margaritas, elote dip, carne asada fries and more, on the patio Thursday through Saturday beginning at 6 p.m.
4041 E. Thomas Road, Phoenix

602-714-5243
Spooky's Swirls
Who knew Phoenix needed a dedicated gluten-free bakery centered around horror films (with an actual horror museum inside)? Spooky's Swirls has some of the best baked goods around — even better than their gluten counterparts. Cheesecake and chocolate cupcakes, rosemary scones and baked-from-scratch cinnamon rolls are among the favorites on the rotating menu. You can also place custom cake and cupcake orders.
Due to COVID-19, Spooky's Swirls is currently only accepting online or phone orders for curbside pickup on Fridays, Saturdays and Sundays.
3029 N. Alma School Road, #117, Chandler

707-776-6597
Sapiens Paleo Kitchen
For those looking for paleo-friendly dishes, Sapiens is the Greater Phoenix area's first 100% paleo restaurant. This means that it's 100% free of gluten, dairy and sugar. Here, the elegance and sophistication of French cuisine meets paleo nutrition principles — which is a focus on quality meats, fish, vegetables, fruits, herbs and healthy fats.
With experience in the food and beverage business, the owners adopted the paleo lifestyle to help manage their own health conditions. This, combined with a growing trend of customers requesting foods that were nutrient-dense and toxin-free, inspired them to start the restaurant.
Last August, they launched Paleo Meal Prep, individually packaged meals delivered to your doorstep. They also accommodate keto, low-carb, Whole 30 and anti-inflammatory protocol (AIP) lifestyles.
10411 E. McDowell Mountain Ranch Road, Ste. 120, Scottsdale

480-771-5123
Gluten-Free Creations Bakery
Many local restaurants that offer gluten-free alternatives get their bread products from Gluten-Free Creations. This local bakery, which started 20 years ago, has become the go-to for a variety of mouth-watering breads.
Over the years they've expanded to create delicious products free of any or all of the following: egg, dairy, soy, tree nuts, peanuts, corn, yeast, processed white sugar or grains. Vitamin D is added to the breads, vitamin B is added to almost all products and all ingredients are tested to ensure they are free of allergens.
7607 E. McDowell Road, Scottsdale

480 990-2253
10880 N. 32nd St., Phoenix

602-626-7458